Winter is here, and snow storms are hitting hard all across the Northern Hemisphere. Whether you own a shuttle bus company, or manage school buses or city buses, you know how important it is for your drivers to stay safe, and keep your precious cargo safe. We have some tips to help your bus drivers be careful on the icy roads.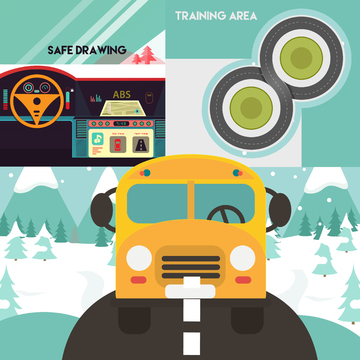 Training is not just for new drivers. We could all use a reminder now and then about how to drive safely, and when we are in emergency situations, we tend to fall back on those skills we've practiced. Set up a training area where drivers can work with instructors and practice increasing their following distance, and techniques for braking on ice and using anti lock brakes (ABS) properly (steady, constant pressure).
Consider telling your bus drivers to take alternate routes, and make sure they know routes that avoid large hills or particularly icy areas, so they can make those decisions on the road if necessary.
Make a discussion of the day's weather forecast part of your morning meeting, if you have one. If not, consider implementing this habit so everyone in your company starts out the day with the information they need to stay safe and be productive.
Give your bus drivers a pre-trip inspection checklist, and make sure you're giving them permission to be on the clock early enough to get it done.
Pre-trip Inspection Checklist
Do the heaters work?
Are the wiper blades in good condition?
Is the widow washer solvent full?
Do I have a can of de-icing spray?
Are the headlights working and clear of snow?
Are all of the windows and mirrors clear of snow?
10 Tips for Driving Safely in Winter Weather
Slow down.
If you start to slide, don't overcompensate or jerk the wheel. Use slow, steady movements.
Apply steady, constant pressure to the brakes, especially if you start to slide.
Don't use cruise control.
Use your low beam headlights at night or in the fog
Wear sunglasses to reduce glare during the day.
Increase your following distance.
Use your air-conditioning or if not available, crack a window in the front and back of the bus to keep your wind shield from fogging up.
Maintain a constant speed on hills. If hills are especially icy, consider taking an alternate route
Use extra caution on bridges and overpasses, which may have ice before other parts of the road.
Finally, winter weather can cause buses to sometimes be late to their destinations. We can help you alert your riders about delays with Real Time Status Updates and inform them of route changes with Vehicle Tracking Software. They can receive these updates on their phones. Contact us today to find out how to provide this valuable service to your customers.