Getting your company's data appearing on Google Maps, Bing Maps,  Transit Apps and other transport software is mandatory these days.  Your passengers and customers expect to be informed all the time and when you don't meet their expectations they become disgruntled, interact negatively with your front-line staff and drag down the reputation of your company.
But for many companies getting onto such sites is a technological challenge that is beyond them or a cost that is not factored into the budgets.  AddTransit aims to make it easy and affordable to get your transport business appearing online.
So how do you do it?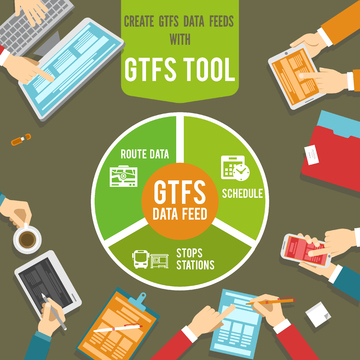 You need to create a GTFS Data Feed and the easiest way to create a GTFS data feed is with a GTFS Tool.
GTFS Data Feed
A GTFS Data Feed is a special computer file that contains data about your route, schedule and stops/stations. GTFS is an acronym for General Transit Feed Specification.  This specification was originally developed in partnership between a public transport operator and Google.  Since then the specification has become the defacto standard for all the major internet companies (e.g. Bing, Yahoo, etc.) and also for all the smartphone, mobile and cell phone public transport and transit Apps.
The GTFS Data Feed allows you provide your transit data in single feed to all these companies; a single update that becomes accessible to all your passengers, everywhere, all the time.
GTFS Tool
When you want to create GTFS data feeds, the easiest way is using a GTFS Tool.  The GTFS tool ensures that the data is in the correct format and enforces consistencies and GTFS validations.  The tool should provide an intuitive user interface, the ability to verify geographic data on maps and where possible, prevent user errors.
The GTFS tool should allow you to easily export your first schedule and make changes to your schedule, route or stops a simple maintenance function.  We also recommend an online tool, so that if the standard changes, you will automatically get the updated software.
What Next?
Well, if you'd like to get your schedule, routes, stops onto Maps.  If you'd like to make it easier for your passengers and customers to access your timetables and plan their journeys.  Or if you'd like passengers to self serve and reduce questions and queries to front line staff, then we recommend you Join AddTransit and get started.
Have a great day!