Valentine's Day is a great day to express your love for your loved ones, and we think the best expressions are often on transit!  Here are some sweet past expressions of love that took place on buses and trains that will inspire you this year.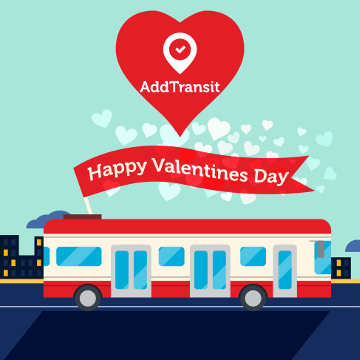 Vancouver Bus Stop Poster Starts Married Couple on Journey to Beautiful Love
This couple met when Elsa saw John's smiling face on a United Gospel Mission poster at the bus stop and it prompted her to volunteer.   While she was volunteering, she got to meet John in person, and that was the beginning of their romance.  It just goes to show that you never know who you might meet at the bus stop…. even if it's just their picture.
Nick proposed to Dinah at the bus station with an engagement ring in a breath mint box.  He says he "needed a moment that would have some romance to it when she absolutely would not see it coming, and that is where South Station fit perfectly."
Last year, Steve and Roberta shared that they were celebrating their 20th anniversary after meeting on the bus and spending much time together during subsequent rides.   Read more stories about love on the bus!
Get Inspired This Valentine's Day
Watch this sweet video of Adam proposing to Lucy on the train, after hiring the Adam Street Singers to sing Lovely Day to her.
Do you have a story of romance on transit to share?  We'd love to hear it!  You can post it in the comments on Twitter, Facebook or Google+ or email us at emstrength@addtransit.com and we'll blog your story.