Every day we find transit news that is relevant and useful to you. But if you missed these daily posts on Facebook, Twitter, Google+, Pinterest and Linkedin, you can find them all here in one place each week!
Here's what happened in the transit world last week:
BUSES
Urban Dwellers Aren't Abandoning Buses; Buses are Abandoning Them
This article from News Geography takes a look at why bus ridership is declining, and they say the data points to a decrease in bus service being the reason.
Should Colfax Give Up Car Lanes for Faster Bus Service?
Specifically about Denver, Colorado, but applicable to any city. Is this a trade worth making?
Back to College for Bus Workers
Bus Drivers in the UK are getting more than satisfying work and a paycheck from their jobs. They're learning foreign languages and other fun and useful skills right out of the First Group bus company's garages. What a great way for a company to care for the whole employee!
Euro VI Bus and Coach Registrations in 2015 Top 50%
Over half of the buses registered in 2015 met the Euro VI standard for emissions. The article talks about the reasons for this boost in compliance, and how the companies will continue to improve their reduction of emissions.
UK Bus Operators Make Case for Contactless Travel
Five leading bus companies, Stagecoach, First Bus, Go-Ahead, Arriva and National Express, are working to make contactless travel the standard in Britain by 2022.
Metro McAllen shared their excitement about their new all electric bus with a picture on Twitter.
SCHOOL BUSES
New School Bus Law to Improve Crossing Roads
Bus drivers in North Carolina are now using hand signals to let kids know if it's safe to cross the road or not.
When a School Bus Full of Kids was Heading for a Ditch, This Boy Saved Them in the Most Amazing Way
14 year old Cory jumped into the driver's seat and hit the brake when the bus driver became unconscious after a car hit the bus.
School Bus Fleet Launches New Website, New Look
Their new website is looking very nice with easier navigation and better response for mobile users. Check it out!
Connecticut District May Cut School Bus Aides
This school district wants to cut aides from its buses to save money, but some parents are in opposition. What do you think? Should all school buses have aides?
TRAINS
Transit Officials Unmask New CTrain Car
Check out Calgary Transit's sleek new car! It's "more reliable, more spacious, more accessible with a variety of new features."
Hyperloop Transportation Technologies Breaks Ground to Make Elon Musk's Hyperloop a Reality
The Hyperloop is a vacuum tube that will be able to transport passengers at 800 MPH from one major city to another at a fraction of the cost of high speed rail.
Gothard Base Tunnel Freight Tests Begin
Switzerland is testing the world's longest railway tunnel, which will have regular service by the end of the year.
France is working on tunnels for a high speed railway.
First Metrolink F125 Completed
Metrolink in Los Angeles, California will have it's first F125 Spirit diesel locomotive.
London Suburban Metro and Local Input to Franchising Proposed
The Department for Transport and Transport for London are working together to potentially create a London Suburban Metro.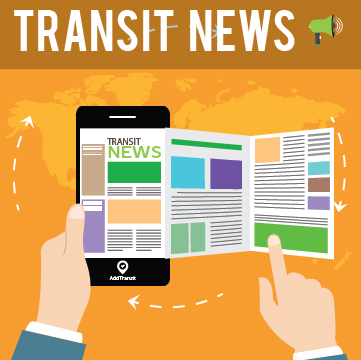 STEAM TRAINS
Visitors Enjoy Steam Town on MLK Day, First of Several Free Admission Days Planned for 2016
The National Historic Site offered free admission on Martin Luther King Jr. Day, so families could come learn about the history of steam trains.
PUBLIC TRANSPORT
County to Provide Free Bus Passes for Those Registering to Vote
Milwaukee County will spend up to $20,000 to provide free bus passes for voters.
DOT Secretary Foxx Outlines Infrastructure Vision
US Department of Transportation Secretary Anthony Foxx discussed the infrastructure deficit and ways to improve planning for transportation dollars.
Top 10 Reasons to Thank Congress
The American Public Transportation Association lists 10 reasons to thank the US Congress for passing the FAST Act, the first long term transportation bill in 10 years.
A Good Transport Plan for Bristol
SusTrans lays out a plan that's greener, cheaper and more efficient than reliance on fossil fuels.
TOUR OPERATORS
Polk County Orange Juice Being Flown to Iceland to Promote Polk Country Tourism at International Travel Tradeshow
Orange juice is being flown in to the 2016 Icelandair Mid-Atlantic Trade Show to show off one of Florida's best features.
We'd love to hear from you!  Let us know what you think about any of these topics.