Your transit company employees work hard every day to bring great customer service to your riders.  Your drivers keep your riders safe and happy.  Your janitors and maintenance workers don't get any credit in the public eye for their unseen work making the company run smoothly.  Your office workers keep systems in place that make the whole company function.
Employee Appreciation Day is March 4, so we have rounded up some ideas to recognize the amazing work your employees do.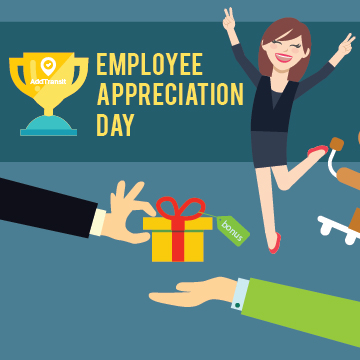 Employee Recognition
18 Creative Employee Recognition Idea (from TinyPulse)
From simple handwritten thank you notes to singing your employees praises on social media, sometimes just saying "thank you" is enough.  This list also has ideas for prizes, hack days, and surprise treats.
Themed Events
10 Theme Ideas for Employee Appreciation Day (from Baudville)
Here's a list of 10 themes, like Office Olympics, Rock on! (, and Smells Like Team Spirit, to create a fun office party.
Gift Ideas
Here are some gift ideas for:
Train Drivers (from Cafepress)
Ideas for the Whole Year
Don't let your employees feel like Employee Appreciation Day is an obligatory yearly hassle for you.  Let your employees know you appreciate them all year long.
1. Have an office party for each employee's birthday or, in a larger company, a party once a month celebrating all of the birthdays that month.
2.  Put up a poster that shows exactly how employee contributions are making the company better.  It can be a chart showing each person's place in the system and regular updates on company profits, days without an accident, decreasing customer service complaints and increasing compliments.  Add the thank you notes from the charity to which your company donated and pictures of the summer employee BBQ.  Make it a one stop shop for everyone to see that their contributions matter in the larger picture.
3. Keep a jar in a central location where employees can drop each other thank you notes.  Read these notes out loud in meetings or post them (with permission) on social media along with a picture of the employees.
We'd love to hear what you are doing this year to say "thank you" to your employees!  Find us on Facebook, Twitter, and Google+ and share your stories and pictures.