Every day we find transit news that is relevant and useful to you. But if you missed these daily posts on Facebook, Twitter, Google+, Pinterest and Linkedin, you can find them all here in one place each week!
Here's what happened in the transit world last week:
SHUTTLE BUSES AND SCHOOL BUSES
WA to Trial Driver-less Shuttle Bus in Australian First
The shuttle bus has multi sensor technology, can transport up to 15 passengers, and has an average speed of 25 kilometres per hour.
Mayfield School in Whitehaven Celebrates a Double!  A National Award and a New Bus
They were recognized for helping the children, many of whom have difficulties walking, achieve movement independence.  They won a bus that will take them on field trips.
Texas District Tests School Bus Stop Arm Extension
The stop arm extension extends into the next lane of traffic, forcing drivers to stop to let kids cross the road.  They hope it will the stop arm running violations, of which there are thousands per day.
 New Bill Introduces Major Safety Upgrades for Charter Buses
Proposed upgrades include fire-resistant seats, automatic emergency lighting, and more.  Many charter bus owners fear that the cost of the upgrades would put them out of business.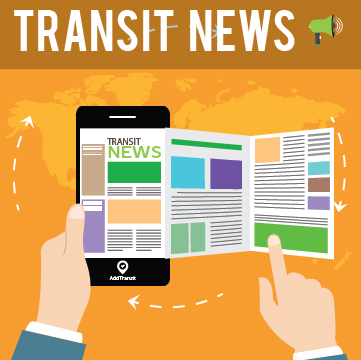 TRAINS
V/Line Delays: Acting Rail Cheif Rejects Any Conflict of Interest Over Bus Company Selected to Replace Trains
The V/Line is having issues with its network, and in the meantime the Bendigo Coachlines has replaced the train service.  There is a questions of a conflict of interest because the bus company is run by the husband of the the rail company chair.  V/Line maintains that the decision was made with appropriate measures in place to avoid a conflict of interest.
PUBLIC TRANSIT
California DOT Admits that More Roads Mean More Traffic
Building more roads and roads with more lanes just means more cars.  Public transit actually reduces traffic.
Obama 'Releases Clean Transportation System' Plan
A proposal for a $10 per barrel fee to be paid by oil companies, which would raise the funds for new investments in public transit.
How Will We Travel in the Cities of Tomorrow?
Keys to urban mobility include addressing safety, the environment, and economic opportunities.
Like Millennials, More Older Americans Steering Away from Driving
Only 69% of 19 year olds have a driver's license and many are putting off getting one because they prefer public transit.  Similarly, older Americans are declining to renew their licenses once they expire in areas where public transit is cheap and reliable.
 Here Map Expands Public Transit Data Across the Globe
Here Map provides transit data to over 1,000 cities worldwide.   Transit companies need to have their schedules online in order to take advantage of getting their information to their customers with apps like this.
THE FUTURE OF TRANSIT
Elon Musk Hints that his Next Project Could be an Electric Plane
The engineer who brought us the concept of the hyperloop is considering designing and vertical take off and landing electric plane.
Hyperloop Transit System Could Be Hurtling Toward Australia
"'We're trying to build the first full-scale Hyperloop in a country with a high-enough density of population, long distances and local infrastructure,' says Mr Gresta."
VALENTINE'S DAY
Transit Love Stories: Meeting Cupid on the Bus or Train
Read stories of people meeting their true love on the bus and train platform proposals.
Another sweet story of finding love on the bus.
Valentine's Day Romance on Buses and Trains
And our own roundup of stories: from engagement rings in a breath mint box to a woman who feel for a charming smile on a bus stop poster.