Real Time Status Updates….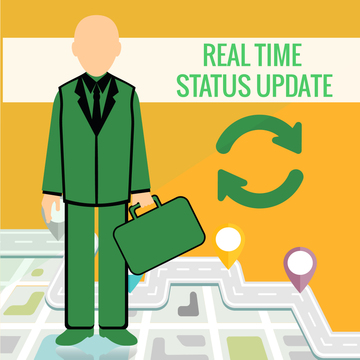 You know others are doing it.
But yes…. you've been putting it off.
You are fearful.  There's a cost. People, systems and reputation.   So it's been left to another day, another month, another year…
So what to do???  Let's review each of these fears and see if we can turn these fears into an opportunity.
Your passengers/customers
Your customers and passengers are now expecting real time status updates.  They are tracking their parcels in real time across the globe.  They know if their Amazon book has left the warehouse, if their E-bay dress is in transit or if their pizza is just about to be delivered.  Their use of paper based maps for driving is now a increasingly historical novelty and GPS enabled smartphones is commonplace.  A decade ago it was normal not to know when things would arrive.  But now, not providing that information is seen as poor customer service.
Your team
Your team are already providing realtime status updates.  They do it by phone in the call center, at customer service centers, at stops/stations/ports and on vehicle.  However, this is a drain on your resources.  Imagine if customers/passengers could self-serve and obtain this information themselves.  This would free up your team.  They could focus on sales, upsell, and safety and instead of many team members providing best-effort updates, real time status updates allow you to ensure the right person provides the right information in the most efficient and cost effective way.
Realtime Status Systems and Software
In the past realtime status systems and software meant a massive cost investment.  Electronic signage was installed at key stops. Televisions and automated voice announcements were programmed.  Networking all these together was horrendously complicated.  And then if you wanted on vehicle realtime status systems you had to install triggers to let the vehicles know which stops had been passed and communications throughout the vehicles so all passengers could view the updates.
Luckily this huge cost outlay is no longer required.  With commuters now carrying smartphones, AddTransit can help you publish realtime status updates online.  This is a great opportunity as commuters care more about their journey, than the vehicles journey. Online realtime status updates are like Pizza delivery tracking.  You want to know how long it is until the pizza arrives at your house.  You don't want to know all houses that the driver will delivering pizza to.  Online realtime status updates allow passengers to focus on just the information that is important to them, without being bombarded by updates that are irrelevant to their journey.  Real time status updates gives you the opportunity to provide passengers a personalized customer experience.
Your reputation
The other fear is the reputation.  The concern is that if your vehicles are late, you'll be publishing this information for all to see.  This actually is a false fear.  Knowing that the vehicle is late allows passenger confidence in the system to rise, as now you have provided them with additional information giving them the opportunity to adjust their schedules.   Of course you'll be looking for ways to improve on the service and minimise future delays, but in the meantime the real time status maps and apps will take the brunt of passengers displeasure with late services, and provide passengers reassurance for all the services that run perfectly.
The real time status updates opportunity
So the fears are false.  The opportunity is there.  The question now is poor customer service acceptable?  Or is it time to start real time status updates?
Find out more at https://addtransit.com/real-time-status.php
Or Join today and we'll get you started.
Have a great day!