Online real-time vehicle tracking software gives you the ability to view your bus positions, locate your trains and monitor your ferries or trams wherever they are.  Additionally, you can provide this same information to passengers so that they can plan their journeys and so that their friends and families can have the security of knowing when they will depart and arrive.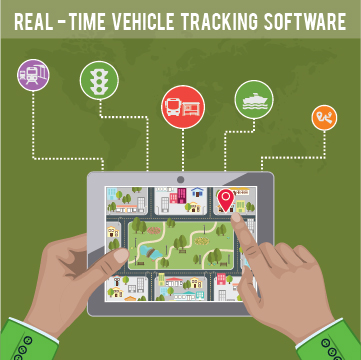 Vehicle Tracking Software – The Technology
AddTransit's technology is easy to deploy.  There is no need for IT consultants or hardware that costs tens of thousands of dollars.  Instead we just add an app to a GPS enabled smartphone or tablet which is carried on the vehicle.  With the accuracy of smartphones now being approximately the size of a vehicle in an area with good mobile/cell coverage, this enables the vehicle location to easily be pinpointed.
The smartphone or tablet, then sends a secure signal using the HTTPS protocol to our servers, which then display the location on a map.
Secure and Accurate Vehicle Tracking
To ensure secure and accurate vehicle tracking, each vehicle is has its a unique identifier (e.g. a Licence Plate or Registration Number) entered and the on board company representative (e.g. driver, pilot, or other staff member) has to login.  Key trip details are also selected so that you can know which vehicle, company representative is currently logging the vehicles location.
Online  Vehicle Tracking- The Display
Tracking bus positions, or other vehicles locations is then as simple as logging into the AddTransit website.  The location of the bus, ferry, train or tram are shown on map and update at regular intervals. Depending on your need, you can select to monitor a particular vehicle, trip or route.  As the solution is online and real-time, you can monitor your vehicles from wherever your staff need to.  For example, your staff could monitor your vehicles from both the head office and from ticket sales locations, depots or docks.
Vehicle Tracking Apps, Journey Planners and Maps
Using AddTransit's online real-time vehicle tracking also enables you to have your vehicle's locations displayed on vehicle tracking apps, journey planners and maps.  We can provide a GTFS Real-time data feed which can be used by companies such as Google, Microsoft and Yahoo to display your vehicle's locations on their maps.
Contact us to find out more or Sign up today!