Today, we thought we'd have a quick look at how real time transit vehicle tracking works…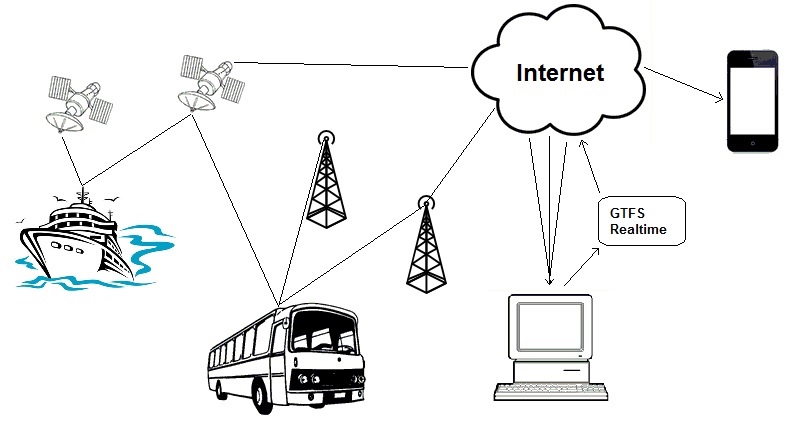 The diagram above provides a simplistic representation on how vehicles positions are determined and then combined to provide real time transit information on a mobile phone.
Firstly the vehicle typically has an on-board Global Positioning System (GPS) device.  The GPS device uses signals from satellites, telecommunication towers and even local wifi to determine where the vehicle is physically located.  The amount of signals available will depend on the vehicle, it's location and the specifications of the GPS device.  The greater number of signals that the device has access to, the more accurate it can be.
The GPS device will determine its position in terms of latitude, longitude and also provide a level of accuracy.  The vehicle will then transit the GPS location and some identifying information (e.g. a vehicle id, route id, etc.) via the internet to a computer.
The computer then combines a variety of vehicle's GPS positions to produce the data in the form of a GTFS real time (GTFS-RT) data feed.  This data feed's standardized GTFS realtime format makes it easy for Google and the various transit apps developers to display many bus, ferry, train and public transport companies information in a consistent way.  The position can be displayed on laptops, PC's or tablets.  As the vehicle moves along, the updated position is passed through this process, allowing the end-user to identify the location of the vehicle and make informed decisions about their travel journey.
Well… that's the simple explanation. We'll delve into the detail in future posts.
Have a good weekend.