Every day we find transit news that is relevant and useful to you. But if you missed these daily posts on Facebook, Twitter, Google+, Pinterest and Linkedin, you can find them all here in one place each week!
Here's what happened in the transit world last week:
BUSES
Library in Bus Opens at Knowle West School
When this small school didn't have enough dedicated library space in its building, they turned a red double decker bus into a library. that even has wifi.   They kids sure seem to love it!
First Driver-less Shuttle Bus Hits Public Roads
The WePods driverless bus had a test run on public roads last week.  It goes a maximum speed of 25 kilometres and will soon have cameras, lasers, GPS and radar.
This Story of a Bus Driver's Act of Kindness is Cheering up Ireland
A bus driver's simple act of tying an elderly woman's shoelace has inspired many people to be more kind.   William Harris of Bus Éireann in Cork, Ireland also inspired people to share stories of other bus driver who had done kind deeds.   We want to hear lots more of these stories for Transit Driver Appreciation Day on March 18th.  Check back here for the chance to nominate your bus driver for a prize.
Rockville Takes a Fresh Look at Bus Transit
While this is specific to the city of Rockville, it does bring up some areas that are challenges for many bus companies.  How smaller companies can compliment, rather than compete, with the larger routes.  making long-range plans, the cost of tunnels, and securing funding.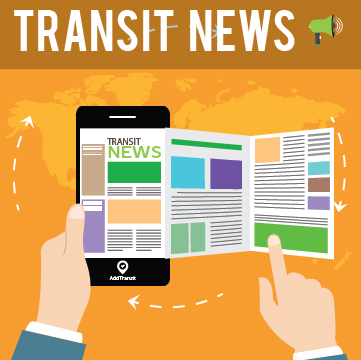 TRAINS
Communters Praise 'Best Ever' Train Driver Who Conducts Morning Quiz Over the Tannoy
This train driver makes the morning commute fun for his riders by telling jokes and asking quiz questions over the PA system of the train.  Passengers tweet the answers to the quiz questions with the hashtag #timetunneltrain.
Record Budget for Israel Railways
Israel now has a budget of 2.3 billion shekels to improve electrification, provide new signalling, and increase the number of passenger trains in the country.
Royal Mail's Secret Underground Railway to Open to the British Public
The railway use d to transport 4 million parcels a day.  Now it is being reopened as a heritage site by the Heritage Lottery Fund.
PUBLIC TRANSIT
Hyperloop: MIT Students Win Contest to Design Elon Musk's 700mph Travel Pods
The Hyperloop is a ground transport concept that will connect people from one major city to another.  MIT and other top ranking teams will build their pods and test them at the first Hyperloop test track.
5 Ideas we Need to Steal from Mega cities that Have Great Subways
From rethinking traffic design to better technology to more sustainability, some cities are doing a great job with public transit.
World Economic Forum's 10 Commandments to Deal with the Urban Mobility Challenge
Changing demographics and social preferences are changing the needs of urban mobility.  Communication, leveraging existing infrastructure, mobility grids and more ideas to help "people meet their needs in the most efficient and effective ways possible."
I Love Transit: An Interview with Brent Toderian
Brent Toderian is the city of Vancouver's former Chief City Planner and urbanism consultant around the world.   In this interview, he talks about why he loves transit, his earliest memories of transit, and his excitement about how transit fits into a multimodal city.
OTHER
11 Emerging Technologies That Could Have Major Impacts on Transportation
Among the technologies are the hyperloop and materials science in infrastructure.  Amazing ideas that could transform how we travel!
Let us know what you think about any of these stories!